Missions (Witness 247)
Love Waco. Love the World.
---

Ecuador
Dates: July 30 - August 10
Trip leader:Israel Loachamin
Who:14+
Type: Medical, Construction
This coming summer, we will be sending another team to the Amazon rainforest of Ecuador to work alongside Iglesia Bautista Kairos in the villages of Valle Hermoso and Kunkuk. Quality medical and dental care is restricted due to their remote location, so we hope to bring along some medical professionals and/or students, along with a crew ready to partner with locals in construction projects (electrical installations, roofing, and painting). Also, we will partner with ABEL and Convencion Bautista Ecuatoriana to have an intensive theological/pastoral program for the Instituto Biblico Bautista in Puyo.
Milan, Italy
Dates: May 21-30
Who: Preference given toward college/young adult
Type: Refugee ministry
Former church members Aaron and Grace Ogburn will host a team from our church to work alongside Aaron in refugee ministry. In recent years, Milan has become a key destination for asylum seekers who have been displaced from their homes, especially in Africa and the Middle East. The team will help expand Aaron's capacity by connecting directly with mostly younger refugees to build relationships, help them process trauma, and assist with their resettlement as needed.
---

Colorado
Dates: March 7-14
Who: College students (though others are welcome)
Type: Church planting, campus ministry
A team of college students (and beyond) will travel to work with two young church plants in the Ft. Collins, Colorado area. Former church member Bill Tinsley, now a resident of Ft. Collins, helps mentor these young pastors. While there is a severe lack of churches in Northern Colorado, Keystone Church and Overland Church are freshly exploring how to be the church in a post-Christian context. The team will work alongside these churches in the Loveland, CO and Colorado State University areas to help them take their next steps as a church.
El Paso Reverse
Date: July 20-26
Who: All hands on deck
Type: Hosting, outreach, community development
In March 2018, our church sent a team to serve alongside First Baptist El Paso. This summer, they will be sending a team to Waco. We hope to work together alongside Nataly Mora, graduate student and former member who is now serving as the Associate Pastor at Park Lake Baptist Church in North Waco. We will need families to host visiting team members, volunteers to provide meals, and all hands on deck to serve our city in various ways.
Norman, OK
Dates: January 17-19 (MLK Weekend)
Who: Men's ministry
Type: Bike ministry
First Baptist Church Norman operates a ministry called "Bikes and Bibles," which fixes up bikes donated to them by the University of Oklahoma and give them away to community members in need. Our church will take a team of men to work alongside their team over MLK weekend. Our hope is to show unity within the body of Christ, provide mutual encouragement, and to pray for sparked imagination for what opportunities God may have for us in Waco. The team will serve with a variety
of projects, so no bike specific skills are necessary.
San Antonio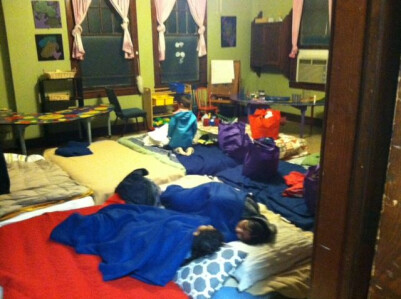 Date: January 17-20 (MLK Weekend)
Who: Families, kids, youth
Type: Refugee ministry
San Antonio Mennonite Church works daily with asylum seekers from Central America. Led by Pastor John Garland (son of FBC Waco member David Garland), their ministry focuses on providing basic needs while helping the travelers heal from the trauma of their journey. This will be a service learning trip, appropriate for all ages, where participants can learn about the complexities of what's happening at the Texas border, hear directly from some of these travelers, and serve the church's efforts in very practical ways.
---

Agape Meal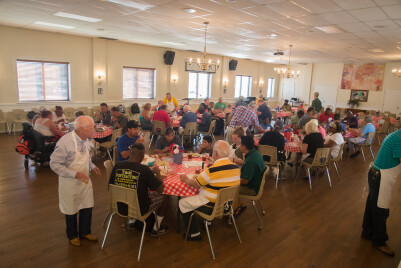 FBC members prepare, host, and serve a dinner meal the last Tuesday of each month for neighborhood guests in our Fellowship Hall. The gathering includes prayer, singing, worship, and fellowship. Many guests and their families have been regular participants for years. After each meal, FBC members commit to pray for guests.
Bells Hill Elementary School Partnership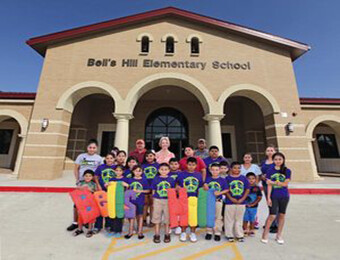 FBC church members have volunteered here for many years, reading with, tutoring, and mentoring neighborhood students. Church members usually work with the same class and the same students throughout the school year. Volunteers visit classrooms once a week at a self-chosen time for an hour to read with children.
Delta Inn Ministry
Our church members meet and spend time with
residents of the Delta Inn on S. I-35. We lead Bible Studies, play sports, pray with guests, and connect guests with resources including Tri-Cities Ministries, with whom we partner there for Christ-centered social services. Our team goes to the Delta Inn every 3rd Sunday after Church.
Faith Health Ministry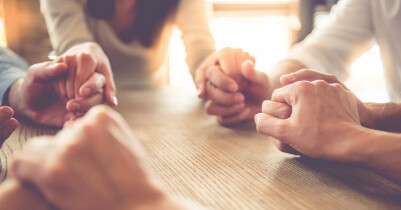 Volunteers serve as advocates for church members and nearby residents who are experiencing health problems and have requested to be assigned to a health advocate through Baylor Scott & White and Providence. Volunteers need not have medical experience, as assistance centers around relationship and extends to providing basic, practical care.
Gospel Cafe
The Gospel café has served lunch Wednesday, Thursday, and Friday to residents in our community for decades. Christian Social Services, including AA, addiction programs, neighborhood ministry and others are also offered to guests. Our team serves lunch the last Friday of every month, and also collects donations every 5th Sunday.
Jail Ministry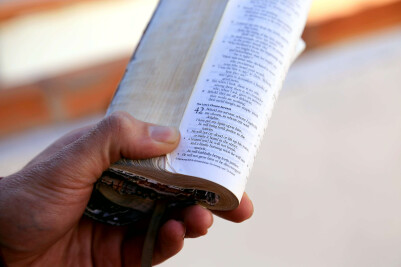 Volunteers partner with Waco Regional Baptist Association to visit and minister to prisoners at the McLennan County Jail on the 2nd Sunday afternoon of each month. No experience is necessary, but an application and background check is required for jail visits. FBC Waco also collects and donates Bibles, devotional books, and other discipleship resources for prisoners.
La puerta
La Puerta Waco is a faith-based ministry located in La Puerta Waco is a faith-based ministry located in Waco, was founded in order to support the Hispanic community. La Puerta Waco provides an array of non-traditional programs that prioritizes family support, technology, together with the provision of life skills training – all within a faith-based environment. La Puerta partners with local organizations to connect the Spanish speaking community with social, mental health, medical and legal services as well as helping to provide vocational skills. La Puerta is currently seeking volunteers to teach ESL classes.
Youth Sports Leagues
FBC members volunteer to coach and mentor young people in our neighborhood in soccer and basketball leagues. Our neighborhood families turn out in large numbers to see their young athletes competing. At half-time or other breaks, FBC volunteers lead devotionals and pray for families there, both in English and in Spanish. We encourage church members to come build relationships with families in our community that could bridge them into the life of our church family.
---
Seasonal Ministries