Staff
Ministry Staff
Matt Snowden
Pastor
E-Mail:

Matt Snowden became our pastor in August of 2010. Matt is married to Meredith and they have two children, Molly Katherine and Wes. The Snowden family is happy to share their life with a bird dog named Sam and a cute little mutt named Lilly Belle. Matt was born in Meridian, Mississippi and educated at William Carey University, New Orleans Baptist Theological Seminary and George W. Truett Theological Seminary at Baylor University.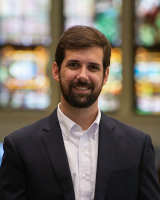 Joshua Hays
Associate Pastor of Discipleship
E-Mail:

Joshua was born and raised in Murfreesboro, Tennessee, and graduated from Union University and Samford University. He previously served churches in Tennessee and Alabama and came to FBC's staff in 2017 after working at Baylor. Joshua is married to Rebecca, and together they share their backyard with Cooper, a brindle retriever-hound mix.
Ryan Russell
Associate Pastor for College and Missions
E-Mail:

Ryan is a Baylor University and Truett Seminary graduate. He and his wife Raechel lived in West Virginia for a few years where Ryan was a college pastor before moving back to Waco to serve at FBC. Ryan joined the staff in 2017.
Robin Priddy
Associate Pastor to Children & Activities
E-Mail:

Robin grew up in Raleigh, NC and received her B.A. in Communication Studies from Campbell University in Buies Creek, NC. She moved to Waco in August 2011 to attend George W. Truett Theological Seminary. Robin joined the FBC staff in May 2012.
Adam Stanley
Associate Pastor for Youth
E-Mail:

Adam grew up in Houston, TX and attended Mary Hardin-Baylor. He joins us after serving as the Youth Minister at FBC Crawford.
Israel Loachamin
Associate Pastor of Spanish Ministry
E-Mail:

From Quito, Ecuador, Israel received his BA in Theological Studies at Baptist University of the Americas, San Antonio, TX in 2010 and MDiv at George W.Truett Theological Seminary in 2019. Israel is pursuing his DMin at George W. Truett Theological Seminary. Israel joined the FBC staff in January 2016.
William Love
Interim Minister of Music
E-Mail:

Before coming to First Baptist Waco, William was a music minister at a variety of churches, including Parkdale Baptist of Corpus Christi, Willow Meadows Baptist of Houston, University Baptist of Fort Worth, and most recently over a decade with Woodland Heights Baptist Church in Conway, Arkansas. He is a graduate of Mississippi College and Southwestern Baptist Theological Seminary.
---
Support Staff
Cecil Dunham
Business Administrator
E-Mail:

Michelle Sweat
Financial Secretary
E-Mail:

Karli Selz
Director of Communications
E-Mail:

Maddie Rarick
Office Administrator
E-Mail:

Alice Collins
Food Services Director
E-Mail:

---
Childcare Staff
JoEllen Roach
Director of Preschool Ministries
E-Mail:

Rita Naida
Assistant Director of Preschool Ministries
E-Mail: