Women's Ministry

Women's Ministry seeks to offer opportunities to involve women across our church to develop friendships and deepen their spiritual lives.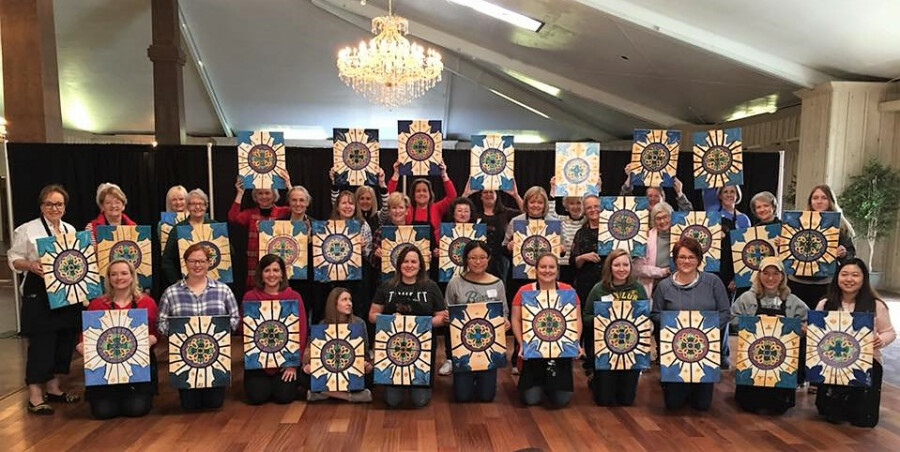 FBC Waco Women's Annual Retreat, February 2-3, 2018, "Praising with a Twist." Gathering to relax with yoga, good reads, and painting along with singing and fellowship at Beaumont Ranch. God gave us a unique way of praising Him.
BIble Studies:
Check back in soon!
Upcoming Events
Feb. 1 & 2, 2019 Spring Retreat, FBC Waco
Retreat Theme- "Room at the Table", Feb. 1-2, 2019, at FBC Waco Fellowship Hall & Chapel
Katie McKown, Pastor of Scottsville Baptist Church, Scottsville, VA will speak on "Hospitality" as women in the home, life, and missions as well as "We're Not Alone" as women with the assurance of Christian friendship with one another and with God. Come join us to learn more of what God desires to share to your heart through these messages and fellowship together!
Sign up here:
Devotional Thought
Awakening each day, we are filled with a sense of wonder anticipating what lies before us in our journey of life. Today, this morning, stop, take a deep breath, center your heart and mind. Grasp a sense of God's goodness to you. These next few moments allow your heart to embark on an encounter with God through a scripture that draws from us the essence of praises.
Psalm 9:1
"I will give thanks to you, LORD, with all my heart; I will tell of all your wonderful deeds."
As we consider our hearts, we use this psalm to give us opportunity to reflect on those wonderful deeds. Think across the past week of just two blessings that God brings to mind in these few minutes of quiet with Him. Now is His time to share them with you. As you think, perhaps you'll want to praise Him and give thanks just as Psalm 9:1 echos such praises.
Prayerfully ~~~ Your heart will guide you and God will be expectantly listening to your praises. What a joyful encounter we share with Him when we come before Him with our praises for the simple, powerful blessing of who e is, whose we are in Him, and what we've seen Him divinely create throughout our lives. Now, that's marvelously heartening to offer praises! May your prayers and praises with our Lord be blessed in a way that your heart gathers a refreshing fountain of joy!
Contact
If you have any questions or would like more information about Women's Ministry at FBC, fill out the form below or contact Dana Lee Haines, , 254.710.6937